Description
HID Metal Halide lamps for floddlighting use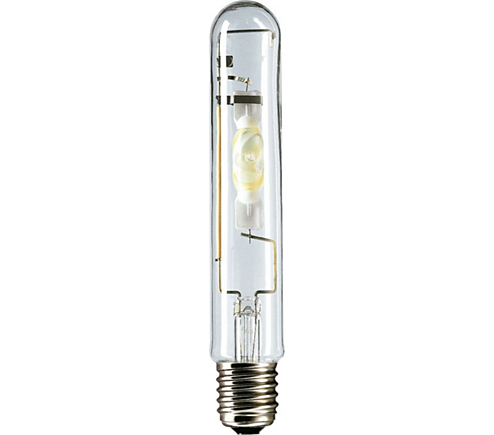 MASTER HPI-T Plus 400W/643 CL 1SL
Order code:

928473709299
Full Product Code:

871016314601000
Specifications
General Information

| | |
| --- | --- |
| Cap-Base | E40 [ E40] |
| Operating Position | P20 [ Parallel +/-20D or Horizontal(HOR)] |
| Life to 5% Failures (Nom) | 5000 h |
| Life to 20% Failures (Nom) | 5000 h |

| | |
| --- | --- |
| Life to 50% Failures (Nom) | 20000 h |
| System Description | Horizontal Operating Position |

Light Technical

| | |
| --- | --- |
| Color Code | 643 [ CCT of 4300K] |
| Luminous Flux (Rated) (Min) | 30000 lm |
| Luminous Flux (Rated) (Nom) | 35000 lm |
| Color Designation | Cool White (CW) |
| Lumen Maintenance 10000 h (Nom) | 75 % |
| Lumen Maintenance 2000 h (Min) | 80 % |
| Lumen Maintenance 2000 h (Nom) | 90 % |
| Lumen Maintenance 5000 h (Min) | 70 % |

| | |
| --- | --- |
| Lumen Maintenance 5000 h (Nom) | 85 % |
| Chromaticity Coordinate X (Nom) | 369 |
| Chromaticity Coordinate Y (Nom) | 375 |
| Correlated Color Temperature (Nom) | 4300 K |
| Luminous Efficacy (rated) (Nom) | 90 lm/W |
| Color Rendering Index (Nom) | 65 |
| Ratio Scotopic/Photopic Lumens | 1.50 |

Operating and Electrical

| | |
| --- | --- |
| Power (Rated) (Nom) | 390 W |
| Lamp Current Run-Up (Max) | 6 A |
| Lamp Current (EM) (Nom) | 3.4 A |
| Ignition Supply Voltage (Max) | 198 V |
| Ignition Peak Voltage (Max) | 5000 V |

| | |
| --- | --- |
| Ignition Supply Voltage (Min) | 198 V |
| Ignition Time (Max) | 30 s |
| Voltage (Max) | 135 V |
| Voltage (Min) | 115 V |
| Voltage (Nom) | 125 V |

Controls and Dimming

Mechanical and Housing

Approval and Application

| | |
| --- | --- |
| Energy Efficiency Label (EEL) | A+ |

| | |
| --- | --- |
| Energy Consumption kWh/1000 h | 429 kWh |

Luminaire Design Requirements

| | |
| --- | --- |
| Bulb Temperature (Max) | 600 °C |

| | |
| --- | --- |
| Cap-Base Temperature (Max) | 250 °C |

Product Data

| | |
| --- | --- |
| Full product code | 871016314601000 |
| Order product name | MASTER HPI-T Plus 400W/643 CL 1SL |
| EAN/UPC – Product | 8710163146010 |
| Order code | 928473709299 |
| Numerator – Quantity Per Pack | 1 |

| | |
| --- | --- |
| Numerator – Packs per outer box | 12 |
| Material Nr. (12NC) | 928473709299 |
| Net Weight (Piece) | 0.187 kg |
Lamps & Lighting
Lamps & lighting. We stock a full range of lamps, tubes and lighting equipment. We can offer LED types but we specialise in holding the older types, such as incandescent, navigation, control panel bulbs, HID lamps, Multi vapour, decorative candles and round bulbs, auto lamps, stage and theatre lighting lamps, UV lamps, halogen types and many others. Philips, GE, Osram, Sylvania, Radium, SM, Crompton and BELL are just a few of the manufacturer's products that we can offer. In lighting, we have Glamox, Aquasignal, Cooper Lighting, Chalmot, Ceag, Stahl, Karl Dose and many other brands available. For ,arine electrics usage or electrical consumables requirements, call or email.
See the link below for the brands of lamps and lighting that we stock and supply.
Marine electrics catalogues
Electrical Consumables have many items listed by ISSA catalogue number or IMPA catalogue number. If you cannot see the product that you require, please get in touch for a price quote.
Marine Electrical and Electrical Consumables
In addition to lighting, we stock and supply a wide range of marine electrics and electrical consumables. Contact us fir competitive pricing and fast delivery on your electrical needs.
Global supply
We service the local and UK markets but in addition, we can ship worldwide. From ex/works, through CIF to DDP, we have the shipping options that you need. Contact us today for freight rates.
Contact Us
Home
Email : sales@electricalconsumables.com
Phone +44 (0)1224 594 016
Business customers - Contact us fior your trade discount
We stock a wide range of electrical consumables and marine electrics items from the ISSA and IMPA catalogues
Arch 17 Tristar Warehouse
South College Street
Aberdeen AB11 6JX
Scotland UK